The Alumni Fund
Telephone Campaign
A vital part of the Foundation's fundraising efforts, the annual telephone campaign commenced in 2013, and has been a huge success for the university. Since the commencement of the campaign, Galway University Foundation has raised around half a million euro in philanthropic support
These vital funds have contributed largely towards significant ongoing medical research, supporting students whom urgently require financial assistance, and maintaining NUIG's reputation as a centre of teaching and research excellence.
NUI Galway prides itself on maintaining good relationships with it's alumni, and the telephone campaign is a wonderful opportunity for current students to engage with past students.
The telephone campaign has been designed to connect with our alumni, and has gone from strength to strength. This year, the students spoke with over 1,000 alumni and raised amost €65,000 to support the Foundation's pioneering projects.
Our team of dedicated and enthusiastic student callers at NUI Galway wish to thank you for participating in Galway University Foundation's annual Telephone Campaign.
The Telephone Campaign is a fantastic way for us to stay connected with our alumni and is an essential part of our regular giving programme, which ensures that we can continue to support our students year after year, awarding deserved scholarships, access to education, and funding medical research.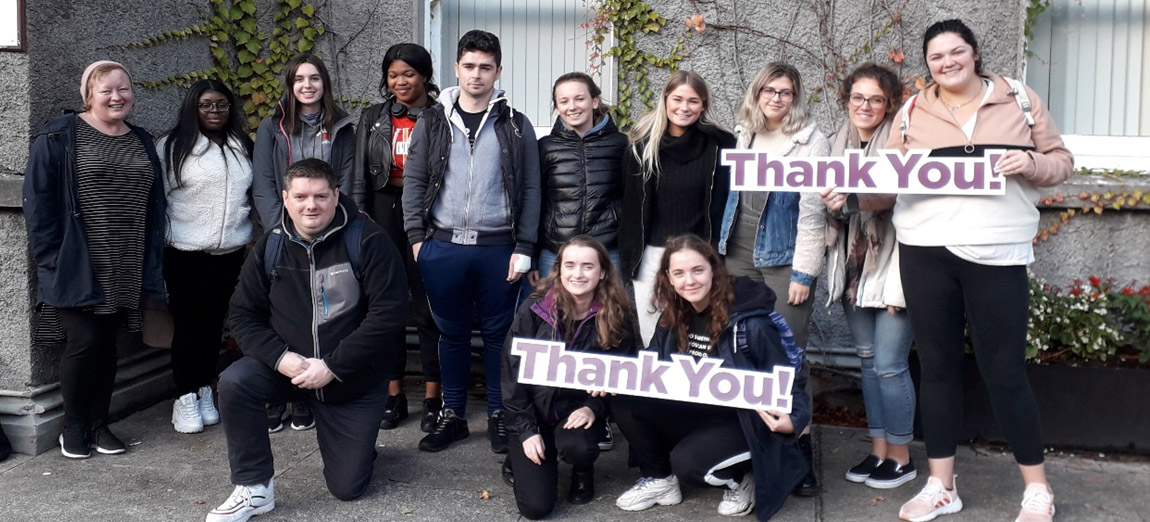 Having as many alumni supporting the campaign as possible is important not only because the more donations we receive result in more students benefitting from the generosity of our alumni, but also because the number of alumni supporting the University positively influences the success we have in raising funds outside our alumni community. Therefore, even modest monthly or single donations are key to NUI Galway's wider fundraising efforts.
There is still time to pledge your support!
For further information on the Telephone Campaign/Alumni Fund please visit www.guf.ie, or contact stephanie.neylon@nuigalway.ie or 091 492721.
Meet the callers
"I worked for the NUI Galway Telephone Campaign in years 2015, 2017 and 2018. It was truly an amazing experience and has opened many windows of opportunity for me as a student. The training I have received and the experience gained while working has helped me both in my academic and working life. It's an interesting job where you get the chance to make a real difference as the donations raised go a long way. The hours are built around your schedule as a student and the pay is great! The team are incredible and there is an amazing atmosphere. I would highly recommend it to any student!"
Massimo Austin, 3rd year law student
"Hey, my name is Amarachi and I'm 18 and in my second year of general science. I haven't previously done the telephone campaign but i enjoy talking to new people so I'm excited to start working."
Amarachi
"Hi, my name is Anastasiya and I am a 2nd year Arts with Journalism student. This is my second year working for the campaign. As I thoroughly enjoyed chatting with past students of NUIG about their experience at the university I decided to work for another year and hopefully hear some familiar voices!"
Anastasiya
"Hello, my name is Aoife and I am twenty years old. I am in third year Electronic & Computer Engineering at NUI Galway. I am really excited to be speaking to NUIG students of the past, hearing their stories and to chat about the Alumni Fund. "
Aoife
"Hi, my name is Carmen, I'm 45 years old and in my final year of a PhD programme with the Unesco Child and Research Family here at NUI Galway. I am in NUIG for the last nine years but it is my first time working as a student fundraiser and I am looking forward to speaking with alumni about the Alumni Fund and about their time at NUI Galway."
Carmen
"Hi, my name is Chloé, I'm 20 years old and I'm from Meath. I'm doing my Bachelor of Arts degree with the subjects psychological studies and maths. This is my first year working with NUI Galway Telephone Campaign and I'm eager to speak with the past students about their time in NUI Galway."
Chloé
"Hi my name is David, I am a 41 years old Masters Student (ICLM), I play football and table tennis. This is my first time as a student fundraiser and I am looking forward to talking with graduates about their experience of NUI Galway."
David
"Hi, my name is Gayle. I'm 20 years old and in my third year of Arts with Creative Writing, studying English and History. This is my first time working as a student fundraiser, and I'm looking forward to chatting with graduates about their time in NUI Galway and the Alumni Fund. "
Gayle
"Hi my name is John I'm a 33-year-old philosophy and English third year from London. I found myself in NUIG through the access programme for mature students and feel it would be great to chat with alumni who have also been through the programme."
John
"Hello, my name is Mary and I am in my third year studying Electronic and Computer engineering. I love anything to do with music. This is my first time working as a student fundraiser and I'm looking forward to talking with graduates about their time at NUI Galway."
Mary
"Hello! I'm Paul. I'm 20 years old and I'm studying Economics, Mathematics, Sociology, and Political Science. As someone with autism I struggled in secondary, but thanks to NUIG's incredible Access course, I secured a place in University! I hope to show exactly how important a program like Access is to its students and to the college itself. "
Paul
"Hi, my name Róisín. I am 26 years old and in the final year of my PhD. My research explores family relationships for young people who have care experience in Ireland. I am a returning student fundraiser, and I look forward to speaking to you about your time at NUI Galway and the alumni fund."
Róisín
"Hi, my name is Ronan and I am 19. I am a final year Commerce student specializing in HRM and I have a keen interest in diversity and inclusion within academic and workplace environments. I am very excited to speak with Alumni who are continuously contributing towards ensuring NUI Galway is at its very best for staff and students alike. "
Ronan
"Hi, my name is Sarah. I am 22 years old and a Galwegian. I have just completed my Bachelor of Commerce Degree at NUI Galway and I am delighted to be furthering my studies on campus by accepting a place on the International Management Masters. I am passionate about travelling and meeting people with diverse backgrounds. I am most looking forward to talking with graduates who have had all different yet, rewarding experiences here at NUI Galway!"
Sarah
"Hi, my name is Shane, I'm 22 years old and in my third year studying Law and English through Arts. This is my first time working as a student fundraiser and I'm looking forward to chatting with graduates about their time at NUI Galway."
Shane
Frequently Asked Questions
What is the Telephone Campaign?
The Telephone Campaign is run by the Galway University Foundation team with the objectives of updating NUI Galway alumni on upcoming events, research and appeals; answering any questions alumni may have; and fundraising for the Alumni Fund. The calls are made by current students of NUI Galway.
Why are the students calling me?
We want to update you on what is happening in and around the University. No one can do that better than the students who are actually living it!
Do all alumni receive a Telephone Campaign call?
We have approximately 90,000 alumni in our database and it grows by nearly 5,000 annually. We call 1,500 alumni each year.
Why do you the students call in the evening or at the weekend?
Our student calling team are made up of current students, all of whom have lectures and academic commitments during weekdays. We make all the calls in the evening and at the weekend.
On what days and at what times should I expect a Telephone Campaign call?
Our students work around their studies and call during evenings and weekends. We will always endeavor to call at a time appropriate to your time zone.
About the students
What are students raising money for?
Our students are fundraising for scholarships and projects and areas that most directly affect student life at the University.
Do students get paid?
Yes. This is a part time job, and the students get paid an hourly wage to call NUI Galway alumni.
Who pays for the students to call me?
The student's wages come out of a centrally-administered budget. Their compensation is not related to the donations they raise.
Will the student I speak to have studied the same course as me?
Wherever possible we will match you to a student whose interests or course may be similar to yours. We want both of you to enjoy the experience of talking about the University.
About donations
Can I make my donation over the phone?
Yes, our students are trained to take donations over the phone, there and then. They can set up Direct Debit payments and process credit or debit cards. We have a secure server and all of your details are safely processed.
Can I donate in other ways?
You can donate online using the link at the bottom of this page. Alternatively, you can download a paper donation form or request one from our office at 091 492171 if you wish to send a cheque.
When will I receive acknowledgement of my donation?
A letter of thanks and your receipts will be posted within a working week.
How can I call the student back?
Unfortunately, you cannot call the students back, if there is a convenient time for them to call, please email Stephanie.neylon@nuigalway.ie or call 091 492171.
How can I stop receiving Telephone Campaign calls?
If you would prefer not to be called, or to request a pause in the calls by our students, please email Stephanie.neylon@nuigalway.ie, or call 091 492171.
How can I be sure the call was legitimate?
If you have received a call from 091 492721 then you have received a call from NUI Galway. If you would like further confirmation, please call 091 492171 where will you will be reassured as to the authenticity of the call.
How can I find out more?
If you would like further information on the Telephone Campaign or discuss a call that you have recently received, please email Stephanie.neylon@nuigalway.ie or call 091 492171.
Contact us
If you have any questions that are not covered by the information above, please email Stephanie Neylon.
Priority Projects
The Alumni Fund allows students and medical researchers access to much needed funds which has an immediate and tangible impact.
As listed as one of the top 1% of universities in the world, our hope is that the student experience remains reputable, by supporting students in need of financial assistance, and developing our campus and facilities.
By donating to the Alumni Fund, you can help us keep supporting our students and university through medical research, the access programme, and by improving our campus today for tomorrow.
Breast Cancer Research
Breast cancer is the second most common cancer to effect women in Ireland. In Ireland, 1 in 10 women will develop breast cancer during their lifetime. Breast cancer is one of the most commonly diagnosed invasive cancers in Ireland. However, continued breast cancer research and breast cancer screening improves treatments and outcomes for patients.
Early detection and diagnosis of breast cancer is key to survival;
Breast cancer is the most common cancer among women in Ireland (excluding skin cancers);
1 in 8 Irish Women will develop breast cancer during their lifetime;
More than 2,500 cases of breast cancer are diagnosed each year in Ireland;
Breast Cancer can affect anyone - irrespective of age, lifestyle and gender;
Approximately 16 men will develop breast cancer each year in Ireland;
The risk of developing breast cancer increases with age;
Woman are most commonly diagnosed after the age 50.
Access Programme - "Transforming Student Lives"
For many second level students and families, the chance at third-level education is simply unrealistic due to sociocultural reasons or financial burdens.
The NUI Galway Access Programme facilitates the promotion of initiatives that encourages access to and participation in NUI Galway amongst under-represented groups of third level education.
It is designed for aspiring third-level students and families who may not have the means to help pay for essentials such as food, transport, books, and course equipment. NUIG recognizes the value of equality and fairness, entitling every student to education, and the ability to not pay should not prevent a student from attending third-level education.
NUI Galway is committed to ensuring that all students, regardless of their social, cultural or financial means, have the right and opportunities to engage and succeed in third-level education.
"I was very lucky to have obtained scholarship funding in the past. Growing up in care meant I didn't have a lot of support, especially in terms of financial support. However, the funding that I received from NUI Galway ensured stability and meant I had one less thing to worry about so I could concentrate on my studies. The scholarship funding has allowed me to undertake PhD research which looks at the family relationships for young people in care, and through this process brought me on an exciting journey. The funding didn't just help me academically but personally".
Access student
Diabetes in Pregnancy
Gestational diabetes is a form of diabetes that occurs for the first time when a woman is pregnant. This type of diabetes is caused by a change in the way a woman's body responds to the hormone insulin during her pregnancy. This change results in elevated levels of blood sugar, also known as blood glucose.
The High blood sugar levels can cause birth defects, 13 weeks into the pregnancy. They also can increase the risks of miscarriage and diabetes-related complications. But many women do not know they are carrying a baby until 2-4 weeks.
According to Diabetes Ireland, in 2013, the last year of published birth statistics, approximately 8,600 women had gestational diabetes and of those it is likely that 2,150 will be diagnosed with type 2 diabetes within three years. While the majority of cases can be controlled with diet and exercise, 10% to 20% of women with gestational diabetes will require insulin. If gestational diabetes is not detected and controlled, it can increase the risk of conditions such as pre-eclampsia and result in birth complications. The
research, led by Professor Fidelma Dunne, has shown results of reduced congenital malformations in babies, neo-natal mortality in babies that is often related to prematurity, reduced prematurity, and reduced the need for extensive neo-natal care for babies.
The Diabetes in Pregnancy programme (Atlantic DIP) are conducting research on:
Pregnancy Outcomes in women with Type 1 and Type 2 Diabetes
The impact of Pre pregnancy care (PPC) on Pregnancy Outcomes
Process of care delivery for Diabetes before during and after pregnancy
Screening for GDM
Persistent diabetes following GDM
Prevention of Type 2 Diabetes following GDM
Genetics of GDM
Psychosocial implications of GDM
Economic evaluation of GDM
The group are currently conducting a randomized controlled trial (RCT) on the use of Metformin in the treatment of GDM. This trial is called EMERGE.